We are the commercial cleaning experts.
Welcome to ServiceMaster Clean of Dryden, Kenora, Fort Frances and Thunder Bay
ServiceMaster Clean of Thunder Bay provides quality janitorial services and commercial cleaning services throughout Thunder Bay and the surrounding area.
In order to provide efficient service in each of our communities, ServiceMaster Clean has offices in Thunder Bay, Kenora, Dryden, and Greenstone.
Our cleaning staff is committed to ensuring that your homes and businesses receive the highest quality of service and attention. You will receive the expertise and service you expect from a brand you can trust.
SERVICES
Office cleaning and janitorial services
Commercial carpet cleaning and office furniture cleaning
Residential carpet cleaning and upholstery cleaning

ENVIRONMENTAL RESPONSIBILITY/GREEN
ServiceMaster of Thunder Bay is committed to environmental responsibility. Our GREEN cleaning processes, engage environmentally friendly products and systems; providing outstanding results and improved indoor air quality.
Additionally, our facilities are equipped with energy efficient lighting including timers and sensors.

RECYCLING PROGRAM
Our recycling program includes sorting and recycling of plastics, paper and cardboard.
Need disaster restoration services? CLICK HERE.
PREVENTATIVE CLEANING AND DISINFECTION SERVICES
For years, ServiceMaster Clean of Dryden, Kenora, Fort Frances and Thunder Bay have been the experts in creating clean, safe and healthy workplace environments. Our experience and training afford us the ability to promote safe practices for infection prevention within all businesses.
In these unprecedented times, we are ready to respond with effective and customizable solutions. ServiceMaster Clean of Dryden, Kenora, Fort Frances and Thunder Bay provides a full range of cleaning and disinfection services that will help to keep your workplace healthy and productive.
GET A FREE ASSESSMENT
COVID-19 FAQs
How can I protect myself from COVID-19?
Social distancing
Together, we can slow the spread of COVID-19 by making a conscious effort to keep a physical distance between each other. Social distancing is proven to be one of the most effective ways to reduce the spread of illness during an outbreak.
This means making changes in your everyday routines to minimize close contact with others, including:
avoiding crowded places and non-essential gatherings
avoiding common greetings, such as handshakes
limiting contact with people at higher risk like older adults and those in poor health
keeping a distance of at least 2 arms-length (approximately 2 metres) from others
Hygiene
Proper hygiene can help reduce the risk of infection or spreading infection to others:
wash your hands often with soap and water for at least 20 seconds, especially after using the washroom and when preparing food
use alcohol-based hand sanitizer if soap and water are not available
when coughing or sneezing:

cough or sneeze into a tissue or the bend of your arm, not your hand
dispose of any tissues you have used as soon as possible in a lined waste basket and wash your hands afterwards

avoid touching your eyes, nose, or mouth with unwashed hands
Cleaning
While it is not certain how long COVID-19 survives on surfaces, it does seem to behave like other coronaviruses. Preliminary information on COVID-19 suggests that the virus may persist on surfaces for a few hours or up to several days depending on different conditions, such as:
temperature
type of surface
humidity of the environment
Although they do not claim to kill viruses such as COVID-19, cleaning solutions can play a role in helping limit the transfer of microorganisms. Health Canada has published a list of hard surface disinfectants that are likely to be effective for use against coronavirus (COVID-19). Public health officials such as WHO and Health Canada recommend cleaning high-touch surfaces often. In the workplace, it is recommended that high traffic work areas or frequently touched surfaces are disinfected twice daily. For example:
In your home:
toys
toilets
phones
electronics
door handles
bedside tables
television remotes
In the workplace:
desks
tables
handrails
doorknobs
computers, including keyboards and mice
countertops
light switches
faucet handles
cabinet handles
elevator buttons
phones
kitchens
cash registers
restaurant tables and menus
Source
https://www.canada.ca/en/public-health/services/diseases/2019-novel-coronavirus-infection/prevention-risks.html#h
MORE COVID-19 FAQS
News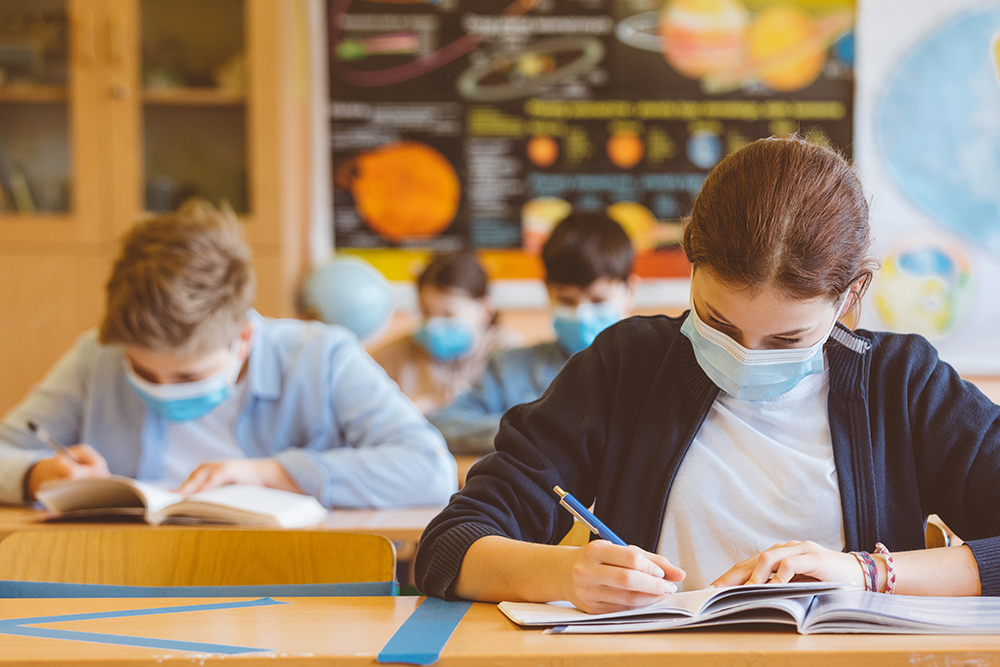 The Facts On Disinfecting Schools
School administrators are facing perhaps their most difficult fall season ever. Getting back to school has never been more uncertain or complicated. Ensuring the safety of students and faculty during the COVID-19 pandemic has raised some challenging questions, many of them about cleanliness and disinfection. Infection control in schools is always a concern because of influenza and bacteria such as MRSA and C. diff, but COVID-19 presents new questions. Principals and school boards are seeking information and they often turn to commercial cleaning professionals for the answers.
ServiceMaster Clean of Dryden, Kenora, Fort Frances and Thunder Bay
1166 Russell Street
Thunder Bay, ON, P7B 5N2
P.O. Box 305
219 Scott Street
Dryden, ON, P8N 3G2
Tel: 855-705-4707
Email: info@servicemasternorth.ca
---
Cleaning and Disinfection Services
We take disinfection seriously! As such, our process always begins with cleaning to allow us to remove any visible dirt and soil. By cleaning first, we enable the disinfectant product to do its job effectively! For disinfection service, we use only Health Canada approved disinfectants. Should your concern be specifically about COVID-19, rest assured, our disinfectants are also on Health Canada's list of approved disinfectants for use against COVID-19.
About Us
Your residential and commercial cleaning specialists Whether you require cleaning for your home or business, ServiceMaster of Thunder Bay is there to help. Our ServiceMaster Clean division focuses on commercial and residential carpet cleaning and hard floor cleaning, full line janitorial
Commercial cleaning services to suit every budget. Our plans start as low as $250 per month - whether you need daily janitorial office cleaning, commercial carpet cleaning or specialty commercial cleaning. Depending on your specific requirements, we will work with you to develop a plan that suits your needs, and your budget.
Guaranteed Service
No other vendor offers the quality of service and degree of commitment as consistently or as affordably as ServiceMaster Clean. We are so confident in our performance, we guarantee it!
Our expertise, dedication and value-added services make us the best commercial cleaning choice for your business.
Get A Free Assessment